Kingdom Hearts 3 Sora on 29 Jun 2010
Square Enix Europe has posted a new trailer on youtube. This trailer features never before seen gameplay of Terra, Ven, and Aqua. Don't the graphics look just great?
Kingdom Hearts 3 Roxanne on 26 Jun 2010
Oh look, new scans to salivate and speculate over, such a grand little treat yes? Judging from what we see here we know exactly what to expect graphics wise and even get a little glimpse as to what certain situations and characters might play in the story. This excites me personally because I'm just tickled senseless over the appearance of certain characters as well as the reappearance of others.  Now without further ado of course: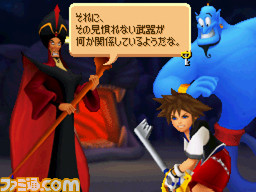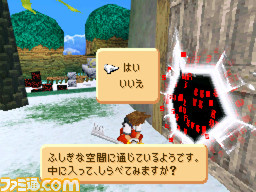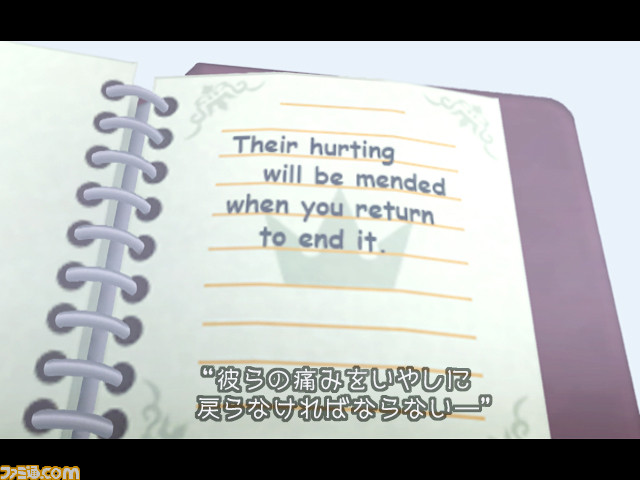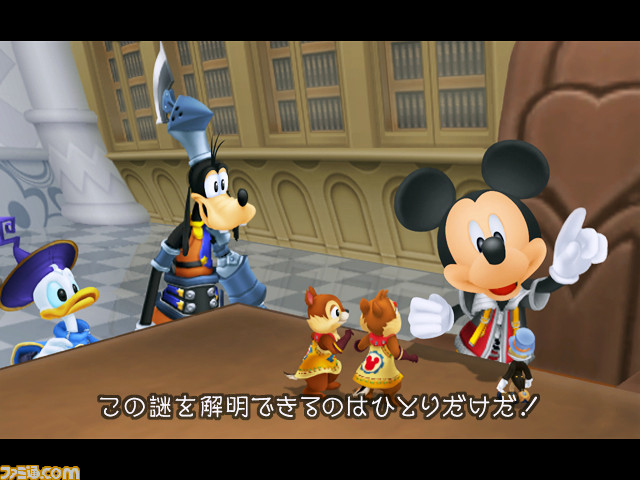 My particular favorite is the line from Jimmie boy's journal, I wonder just what he means yeah?
Want more? Yeah of course, you can find them Here.
Sources: Famitsu.com
Kingdom Hearts 3 Sora on 24 Jun 2010
It's public knowledge that in 2006, Pixar was bought by the Disney. Kingdom Hearts fans have expressed their want for Pixar films to be included among the worlds modeled after Disney films. In a recent interview Tetsuya Nomura, creator of the Kingdom Hearts series, stated "I am aware of the fan requests for Pixar characters. I will do my best. Maybe one day Pixar characters will be featured in the Kingdom Hearts series." I hope so. Swimming alongside Marlin to rescue Nemo from a cruel fate, Protecting Boo with Sulley and Mike, or even fighting grasshoppers with Flik? Who agrees that this would just be plain AWESOME?
Sources: Nintendo World Report
Kingdom Hearts 3 Sora on 23 Jun 2010
In the latest Famitsu magazine, Kingdom Hearts creator Tetsuya Nomura revealed some details about one of the latest Kingdom Hearts titles, Re: Coded.
Re: Coded is a remake of the cell phone game released last year exclusively in Japan for cell phones. The decision to remake the game for the DS was because most North American cell phones aren't capable of displaying the game and thanks to the analog control-free design the game is well-matched to the DS hardware.
The story featured in the cell phone version will be the same, though with some minor scenes and dialogue altered. The graphics will be touched up for the DS version as well. Thanks to the graphic capabilities of the DS some scenes were recreated in full 3D, as opposed to the original idea of porting the game over with no changes being made. Text-based scenes were recreated using 2D sprites, with Nomura using the DS title "The World Ends with You" as an example of a game using 2D graphics to tell its story.
Nomura explained that the gameplay in Re: Coded will include elements of Birth by Sleep and 358/2 Days, believing this combination will create a unique gameplay experience. The game will feature multiplayer elements and avatars with characters from Birth by Sleep and Lightning from Final Fantasy XIII being included. There will also be a secret movie.
Nomura promises that a release date will be announced soon, as the game is nearing completion with 80% done and that the wait won't be as long as with Birth by Sleep.
Sources: Nintendo World Report, KH Insider
Kingdom Hearts 3 Roxanne on 20 Jun 2010
Well the information for Re:Coded has been leaking out in pleasurable little bursts as of late and keeping with that tradition I have a little treat for you thanks to the fantastic folks over at Kh-insider. Below is a scan and subsequent translation regarding the purpose and plan for Square's latest title.
Translation:
"Drawing near to the mysteries that lay deep within the KH series!
New mysteries have been found after the hit PS2 game KHII! Will new information be revealed on this new adventure!?
Mobile game "KH Coded" will be remade and released this Autumn!
The hero Sora will have a grand adventure in the mysterious Data World!
The mobile game "KH Coded" will receive a power up on the DS! Sora will go on a journey to uncover the mysteries of the data world!

What has happened to their travel journal!?
There is trouble brewing in the journal in which Jiminy recorded their adventures!
Data World Sora
The main character Sora has been remade with data to search the data world of Jiminy's Journal.
King Mickey
A great king, he is working to uncover the problem with Jiminy's Journal.
A huge adventure in the data world!
The king has decided to send data Sora into the data version of Jiminy's Journal.
Discover the mysteries in the data world of Jiminy's Journal!
Many troubling things are happening in the data world of the journal. "Bugs" have come from the computer program and invaded the world!
What are the "Bug Blocks" that are appearing on the island?
Explore the area by destroying the strange patterned "Bug Blocks" and using them as platforms!
Destroy heartless!
In battle, press one button to release flashy attacks!"
So there you have it, that's what we've got thus far and though it isn't hugely detailed it certainly gives us a bit more to think about does it not? Hopefully we'll get a bit more information as we go along because I'm definitely curious as to what else is in store for us with this game.
Source: KH-Insider but a special thanks will be given to Justin. <3